Large Diameter Optical Fiber Cleaver
CT105+/106+/104+
When exceptional cleave quality is required for fibers up to 1,250 μm, the new large diameter CT105+/106+/104+ cleaver series provides a variety of options depending on your needs. The color LCD shows Cleaving progress and recommended insert size depending on fiber coating and cladding diameter. Saving and storing cleaving programs to a PC or tablet is accomplished using a USB port. The LDF cleaver's extensive programming features allow for optimal results.



Model
CT105+
CT-106+
CT-104+

Appearance

Cladding diameter

80 to 1250μm

80 to 600μm

Cleave length

 5 to 40mm

 

Angle cleaving

―

✔

―

Fiber holder

Fiber holder adapter(option)


FH-100
Automated Clamp Force Optimization
To get good cleaving quality, the clamping force should be the minimum force that does not slip while the cleaver applies fiber tension. The optimal clamping force depends on optical fiber structure and coating material. The CT105+/106+ have a new technology that can find the optimal clamping force automatically and accurately. Also, it can reduce not only the fiber consuming during optimizing the clamping force, but also optimization time.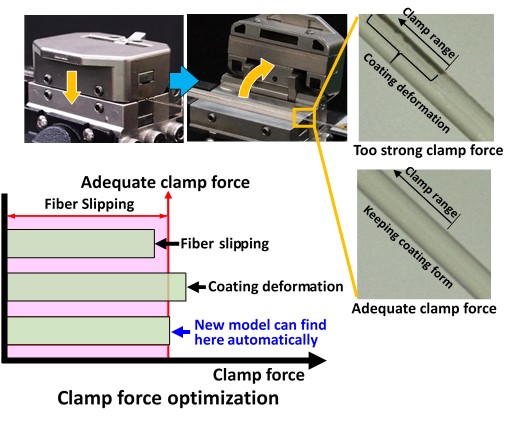 The New CB-06A blade material improvements have increased the blade life dramatically. CB-06A is compatible with previous, CT-105 series models.
Blade edge after cleaving 250um fiber
*Blade life depends on the cladding properties of the fiber being cleaved
Micrometer backstop can improve cleave quality especially for large-diameter fibers and for applying lower tension fibers. CT105+ series is equipped with a micrometer backstop as a standard feature.

Fiber holder adapter – OPTION –
Fiber holder adapter, AD-CT105-FH100, supports the transfer of fiber from the cleaver to the fusion splicer smoothly without removing the fiber from the fiber holder system. Applicable Fiber Holder : FH-100-xxx series for FSM-100 series.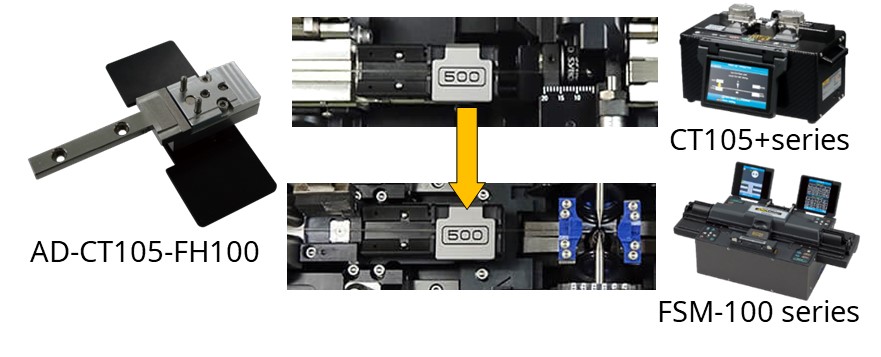 Angle cleave – CT106+ only –
CT106+ achieves angled cleaves by applying torsion with a rotating right clamping stage in accordance with the target angle. Angled cleaving range is from 0 to 15 degrees and possible with fibers up to 800µm.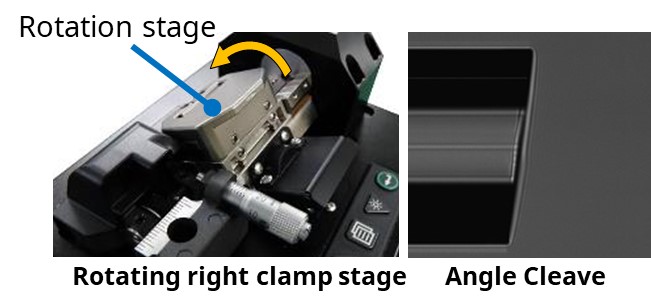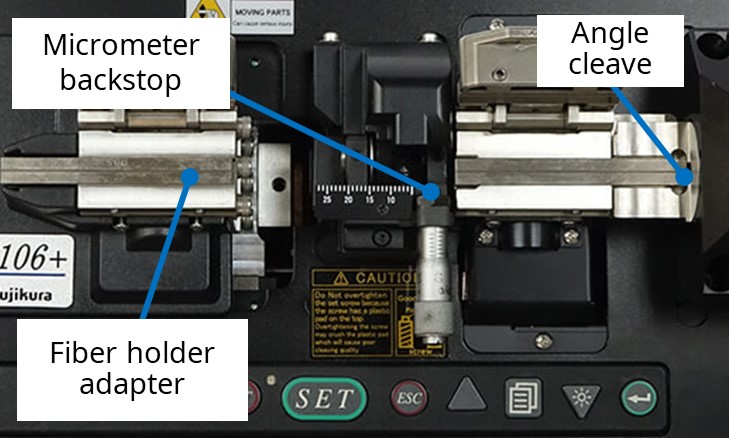 The standard items for the CT105+ series DO NOT include upper and lower inserts for clamping fibers. Referring to the below size table, please order both upper and lower inserts together.
How to select the appropriate size
The number in the table shows the applicable diameter [µm] of cladding or coating. It is necessary to select the insert size based on fibers diameters. At first, try the navy colored cell sizes.
Case1: Cleaving coating stripped fiber

Refer to coating diameter
Refer to cladding diameter
Case2: Cleaving glass rod

Refer to cladding diameter
Refer to cladding diameter