Fiber Arrangement Tool
FAT-04
The FAT-04 is designed to arrange 250μm coated fibers and to make a temporary ribbon configuration so that the fibers may be mass fusion spliced using the same procedures as conventional ribbon fiber.




It is easy to insert fibers into gap from side to order the fibers. The glued fibers are easy to handle the splicing operation.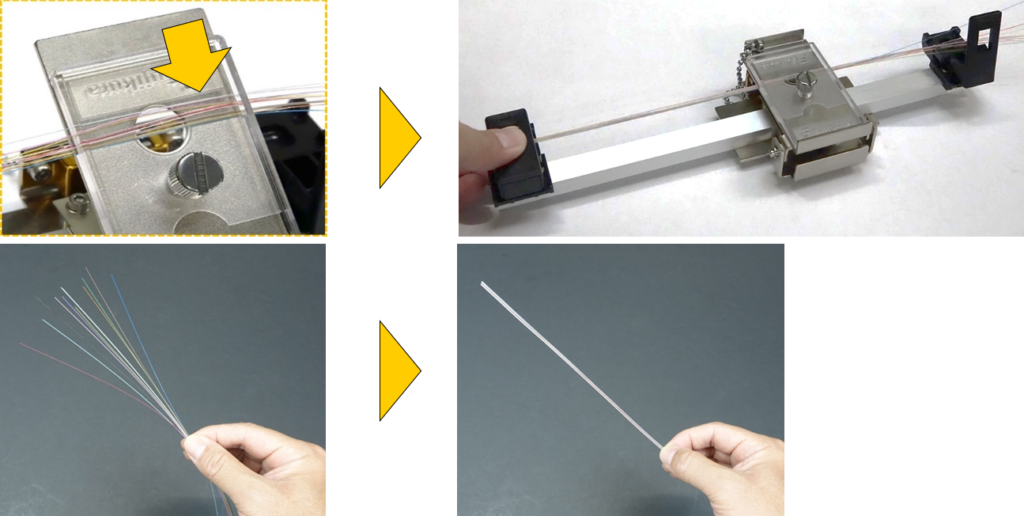 Glued fibers is easy to splicing operation
Standard package

 Item

 Model

 Qty

Main Body

FAT-04

 1 pc

Paste Applicator Block

PAB-01

 1 pc

Clip

CLP-02

 2 pcs

Paste

FAA-03A

 1bottle (130ml)

Sponge Pads

SP-1

 1pack (125 blks)

Cotton Swabs

FM-225

 1pack (100 pcs.)

Instruction Manual

 –

 1 pc
Options

Item

Model

Qty

 Paste

 FAA-03A

 1set

(5 bottles x 130ml)

 Fiber Holders

 FH-70-xx

Refer below table
Fiber Holders
Fiber Count
2 fibers
4 fibers
5 fibers
6 fibers
8 fibers
10 fibers
12 fibers
Model
FH-70-2
FH-70-4
FH-70-5
FH-70-6
FH-70-8
FH-70-10
FH-70-12